Winning PR stories
PAN Communications' virtually visible consumer tech campaign for 3D staging app
3D staging application roOomy, a patented technology that has the power to transform 2D room images into 3D models, provides the ultimate 3D customization experience for consumers and uniquely conceptualizes living spaces by solving the visualization struggles that come with buying and selling homes, as well as choosing furniture that will fit perfectly in a new space.
Often, one of the biggest challenges in buying and selling homes is that potential buyers have a hard time visualizing how their décor choices would look in a home they are touring. roOomy uses virtual reality to fill the gap between what's currently there and a new space's potential. Real estate companies can also virtually stage listed properties to sell them quicker, while retailers are able to showcase how furniture and accessories will look in a new home.
Looking to make waves among home buyers, sellers, realtors and furniture realtors, roOomy turned to Boston-based PAN Communications for a multi-faceted approach that would reach core audiences. PAN was tasked with developing an integrated campaign that would drive results in a fast-paced and competitive market with the objective to raise roOomy's industry profile, drive awareness and downloads for roOomy's app, in addition to building brand advocacy by creating curated content so customers can relate, respond, refer and remember. Read on to see how the firm met and surpassed these objectives for its client—earning a Bronze Award in the "Best Consumer Technology Campaign" category in Bulldog Reporter's 2017 Media Relations Awards.
The Research: During the initial stages of campaign development, PAN took a deep dive into the real estate market, looking to understand how technology is playing a critical role and obtain a better understanding of the market share.
From the outset of this campaign, PAN knew that it needed to brush up on consumer buying habits related to purchasing homes that are staged versus not staged, as the Millennial generation is quickly reshaping what we previously knew about this industry. This included understanding the age demographics that are key audiences for virtually staged homes as well as understanding if there are any geographic differences in the willingness to use this technology. Delving deep into the market landscape and further understanding the target roOomy customer, allowed PAN to uniquely hone its marketing and communications efforts.
For instance, it was discovered that according to the National Association of Realtors, 43% of shoppers are turning to online research as a first step in the buying process, while just 15% contact a realtor—forcing the everyday real estate agent to take a back seat to technology. Additionally, in 2016, the Real Estate Staging Association announced that homes staged before going on the market were selling 73% faster than homes that weren't staged.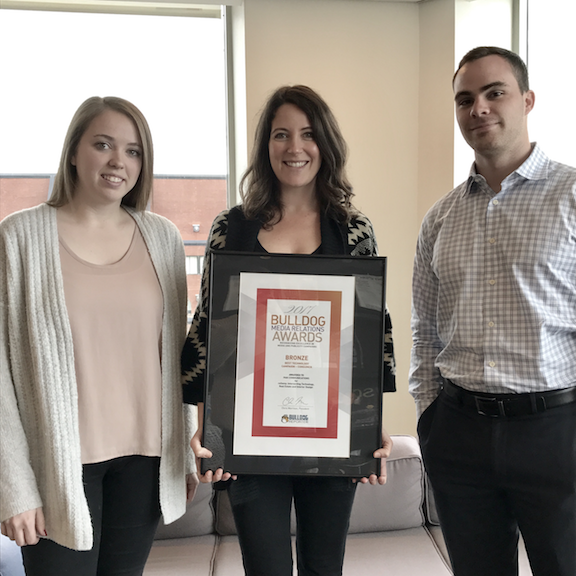 The Strategy: PAN utilized a series of strategies that would catapult roOomy to the forefront of industry conversations. Proactive pitches and ideas aimed to position roOomy as an industry authority, while its rapid response program sought to capitalize on relevant news/trend-jacking opportunities to showcase roOomy's relevance in trending conversations. Additionally, building rapport with target trades, verticals and business press intended to support downloads and reach core audiences.
PAN also set out to further elevate roOomy's status by developing and pitching creative thought leadership angles for executives. Commentary opportunities in key conversations were also planned to support the company's strategic direction and reinforce the company's messaging.
Finally, speaking opportunities at targeted conferences and shows were arranged, as well as award entries, intending to elevate roOomy's presence in front of key industry leaders.
The Execution: Following initial engagement, PAN began outreach on hot topics among the media to quickly increase engagement.
While PAN had a set marketing and communications strategy in place, the team quickly identified the massive number of industry conversations related to augmented and virtual reality (AR and VR) that roOomy could speak to. Pokemon GO was one example as it showed a very sudden, tangible future for AR and VR applications within mainstream life. This shift in strategy from traditional media engagement to trend jacking was one aspect that made the campaign a great success. PAN was indeed able to secure media coverage and interest from outlets covering new tech, such as WIRED, Datamation, ITProPortal, PCMag and Business News Daily.
Virtual staging's impact on home furnishing sales was another angle that PAN pursued. Touching and feeling a new piece of furniture is easy for consumers, but helping them visualize how it will appear in their homes after purchase is where the real challenge lies. Demonstrating how virtual staging tech can help remediate this issue, PAN secured additional media coverage with targeted home furnishings outlets like Home Furnishings News and Furniture World.
On the thought leadership side, executives were quickly positioned as go-to sources for expert advice through bylined content that spoke to key audiences. For example, the piece "Mistakes That Home Buyers Make," addressed that anytime someone embarks on a new journey, they are guaranteed to make mistakes along the way—and this rings especially true for first time homebuyers. The piece offered tips on what rookies can avoid and was featured in INMAN.
Finally, PAN looked to extend roOomy's credibility by establishing a speaker and awards bureau. In each instance, top opportunities were applied for.
The Results: The number one goal for this campaign was to raise roOomy's industry profile through the expansion of thought leadership and brand advocacy. Together, PAN and roOomy elevated senior-level leadership to be a driving force that could speak to the real estate and technology sectors. Importantly, roOomy's best-of-breed platform was also validated time and time again with a number of industry pieces and award recognitions.
Here's a rundown of the campaign's enormous success:
From June to December, just 7 months, roOomy obtained 30 pieces of unique media coverage, including feature articles in Forbes, Network World, Datamation, Retail TouchPoints, Silicon Valley News, Multi-Housing News (two features, including a Q&A with Pieter Aarts), Realty Biz News, HFN (two features), Multifamily Executive, Virtual Reality Observer (two features), California Real Estate Magazine and many more.
The company was also selected for a top speaking opportunity at the HFN annual Omnichannel Summit, where executives delivered a compelling presentation around how technology, specifically roOomy, is transforming the home furnishings industry
The brand also won Best Mobile App award for best social/lifestyle app, and generated a total coverage reach of 1,826,000
Secrets of Success: "roOomy is a great example of using cutting-edge technology to simplify a real-world challenge. It removes the fear factor of designing, and even staging a room, to make it seamless and easy for people to see," adds Katie Blair, Vice President at PAN Communications. "Based on our analytics, we've already seen tremendous responses from our content-driven and media relations focused program, and are eager to take that momentum to the next level."