Winning PR stories
Deep Research and expert media targeting earn Duffy & Shanley a Bulldog Gold
The summer of 2016 would be an historic one. After two years of construction in the waters three miles off the coast of Block Island, R.I, America's first offshore wind farm would finally "power up"—ushering in a new era for renewable energy in the United States. Leading the public relations effort for Deepwater Wind's Block Island Wind Farm was Providence, R.I.-based Duffy & Shanley (D&S), the developer's AOR since the company's founding in 2008.
Garnering prominent national news coverage was the top priority of this campaign. But it wasn't enough to simply tell the story of the building of the Block Island Wind Farm. The PR team wanted to position the five turbines off Block Island as symbols of American innovation, and Deepwater as the leaders of a new American industry. To truly succeed, they'd need to demonstrate that the Block Island Wind Farm is just the start of something much bigger.
From the installation of the first turbine in August, through the first watt of generated power in December, D&S led all communications on this complex project. Read on to see how the firm achieved its campaign goals and more—earning the firm and its client a Gold Award in the "Best Green Campaign" category in Bulldog Reporter's 2017 Media Relations Awards.
The Challenge: D&S's work for Deepwater Wind over the last eight years would culminate in this powering-up PR campaign. Over time, the team had developed close media relationships and a rapport with some of the best national and international energy and environmental journalists. They knew that to best tell the story of the Block Island Wind Farm's completion, they would need to demystify what had, until then, been seen as a conceptual project that might never come to fruition. There was no model for D&S's work: No one else in the U.S. has ever led a PR campaign for an offshore wind farm.
"Communicating clearly and effectively about a new technology—in this case, offshore wind energy—can be a challenge," says Jon Duffy, President of Duffy & Shanley. "In our time working for Deepwater Wind, we've worked hard to build our own understanding of offshore wind and become trusted resources for news media explaining this new technology to their audiences. Our role was as much about educating news media as it was publicizing our client's project," he explains.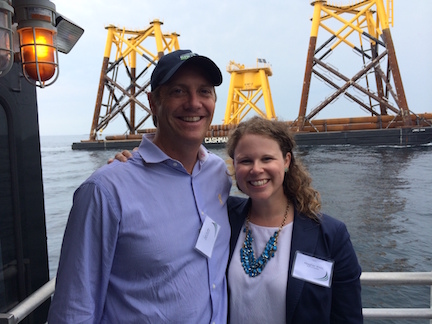 The Strategy: "We determined early on in our campaign development that we wanted to take media 'close to the action,' out at sea—to the construction site of the Block Island Wind Farm—so they could best tell the story of this historic project," Duffy relates.
D&S chartered a Block Island-based fishing boat for eight separate, successful media tours over the course of two weeks—a major logistical feat! "To do so, we had to manage travel logistics for reporters traveling to Block Island; synch media tours to a fluid construction schedule and manage several boat cancellations due to high seas. Remaining nimble was key, and refining our media targets was a must," he says.
High-impact visuals would be another crucial element in this campaign. Through visual storytelling—web and social-media videos, photography, aerial and time-lapse footage—the team would crystallize this first-ever project for project stakeholders and the general public. Just as important, these elements would become an important tool in the team's PR efforts, especially for those media outlets who couldn't travel to Block Island to see the wind farm for themselves.
One of the firm's most important media targets was The New York Times, and the team's hands-on approach with the Times' team is indicative of how D&S approached all of its top-tier media interactions in this green campaign. The agency worked over a year to build a relationship with the paper's climate writer, and offered him the first tour of the wind farm. The team spent several hours touring the construction site with the paper's reporter and photographer, followed by a two-hour sit-down interview with Deepwater's CEO and several days of factchecking.
The Results: D&S's campaign generated a tremendous cover story in the Times' "Science" section, which included several stunning photographs of the Block Island Wind Farm. The story received prominent online play at nytimes.com. The story was one of the paper's most shared of the week, and a quote from Deepwater Wind's CEO was featured in the Sunday Times' "Chatter" column.
That story led to a Times editorial advocating for the growth of the American offshore wind industry in the U.S.—and positioned Deepwater Wind as leading that charge. Last but not certainly not least, President Obama shared the Times story in a tweet that was "liked" more than 7,000 times and re-tweeted nearly 3,000 times.
Overall, PR efforts for this campaign resulted in more than 350 print, online and broadcast stories, over just a four-month period, by much of the country's most influential media. Our placements included stories in The Wall Street Journal, Associated Press, Reuters, Bloomberg BusinessWeek, USA Today, Fast Company, Fortune, Washington Post, CBS Evening News, NBC Nightly News, CNBC, MSNBC, PBS News Hour, NPR, Yahoo!, Mashable, Huffington Post, Gizmodo and more, generating a total of more than 1.5 billion impressions.
Secrets of Success: PR placements of this caliber, with the right messaging (and an endorsement editorial!) do not sell themselves. The Times package is a testament to how well Duffy & Shanley has worked to understand a complex issue and develop the right way to communicate on it, and howits relationship–building with the media has paid huge dividends for this client. It also helps that the Ocean Staters at Duffy & Shanley are not prone to seasickness!
The prominent publicity D&S secured for Deepwater Wind has helped position the company as America's leading offshore wind developer. Just a month after the Block Island Wind Farm began operations, Deepwater Wind received contract approval for its larger South Fork Wind Farm off Long Island, N.Y., and the company is actively planning additional projects for Massachusetts, Rhode Island and Maryland. The Block Island Wind Farm has jumpstarted America's offshore wind industry.
Duffy & Shanley President Jon Duffy offers the following takeaway tips the team used to generate this campaign's success—demonstrating why this PR effort won a Gold in Bulldog's 2017 Media Relations Awards:
Building your own expertise is important: "Learn your client's business or industry well, so that you can best tell their story and become a resource for reporters covering that field. This is particularly important when you are representing a new or complex technology/product/industry."
Read up—early and often, across a variety of mediums and sources: "The research we did, in the months and even years before construction on this project started, helped us establish our media targets, develop our messaging and, eventually, successfully execute this campaign."